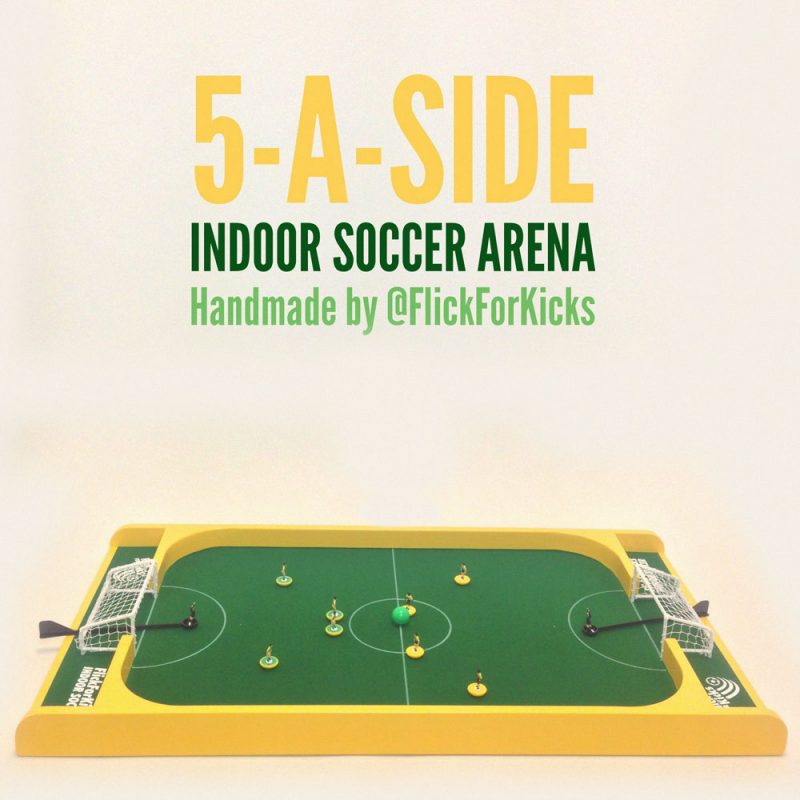 Off-the-wall indoor football FlickForKicks™ style!
At 78 x 43 cm, this handmade mini-table is a brilliant size for playing on a coffee table or on the floor. Play mini-games with your mates and family or hone your skills by practising solo.
Choose the colours for the surrounds and the pitch to suit your favourite team and we'll make it especially for you.
Our indoor goals (just 5cm high) which are supplied with each table, are made to fit. Just push them into the pre-drilled holes and you're ready to play.
All you need is 2-5 figures on each team, goalkeepers and a ball.
The indoor arena is compatible with Subbuteo, so dust off those old figures or grab some modern equivalents. 5-a-side football on the mini-table is fast and fun with lots of ways to play.
Available on it's own or you can buy all of this together as a package.
The FlickForKicks™ Indoor Stadium is compatible with all flick-to-kick table football branded figures including Subbuteo, Tchaaa4, Zeugo, SuperFooty, Extreme Works, Astrobase, and Profi-Base.
HOME OR AWAY
Handcrafted in the UK and finished in your choice of colours, the FlickForKicks Indoor Arena is ideal for a flick-about in front of the TV on match day, or pop it in the car to get your kicks on holiday.
With rubber feet underneath, the mini-table sits perfectly still on a table or solid floor without scratching the surface.
The sides are just 5cm high on the outside so it's easy to store flat or standing up in a cupboard.
SUMMARY
Handmade in the UK
Painted surrounds in a choice of colours
Astroturf style playing surface in a range of colours
Personalisation options with advertising on the sides
Durable metal indoor goals with netting
Table size 78 x 43 x 5cm
Playing area 60 x 40cm
Ready to play
Make it Your Own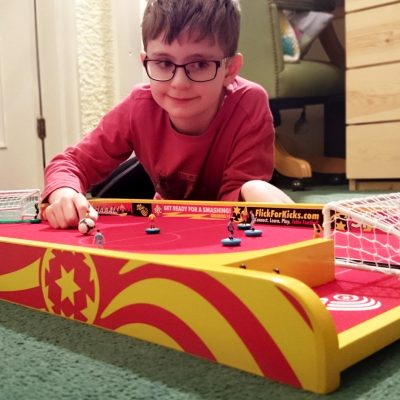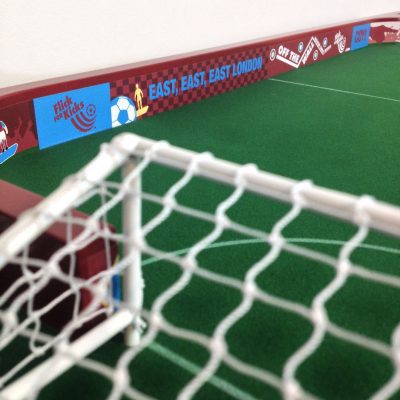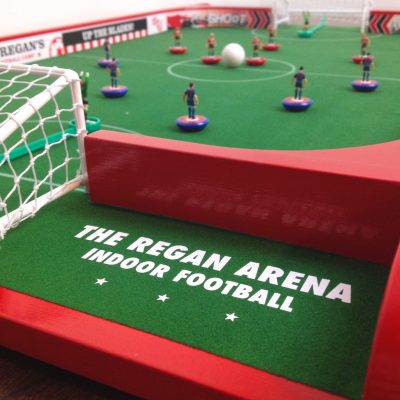 Personalised Custom Indoor Arena Graphics
How it works
If you want to personalise your Indoor Arena, you can pick and choose from a range of extras.
We help you with the design, then print and fit top-quality digital vinyl graphics to your newly made table.
You can either tell us exactly what you want, or give us a theme or a team, and then we'll take it from there.
We also supply hand-painted teams and packaging designs to match your table.
Optional Extras
Pitch Print
Your own text or logo printed beside the goals
Outside Surrounds
Choose a design. Personalise with an arena name.
Inside Surrounds
Choose from a selection of advertising graphics. Customise with your text.
I gifted my brother the table you'd made for him today for his Xmas present and he was delighted with it (a tad emotional too!). I also wanted to say thanks again, it was the perfect gift for him. I may treat myself to one in the new year!

All happy faces this morning...thanks for all your help!

I just wanted to let you know that the table has arrived and it's absolutely brilliant. It really is above and beyond expectations. I really appreciate the time and care that you have spent on the table, players and box. They really are very special. I'll be leaving a review on your website to recommend your business to others.