Infuriating!
Playing table soccer on anything but a table, that is.
A game of intricate skill, hand-eye co-ordination, and quick-thinking strategy, is reduced to a game of chance; dealing with whatever awful position the ball ends up in.
If you want to string together awesome passing moves, play the ball through that gap in the defence and slide in to nick it past the keeper…well, you need a flat and even surface to fix your pitch on.
Even better, with it's own supports you can really raise your game! (Sorry)
The carpet might've been okay back in the day, but look at what we're bringing to the table now. (And again)
Don't have the space for a permanent table set up? That's roughly 1 metre x 1.5 metres, by the way.
How about an easy to store table base kit that slots together without any fuss.
See for yourself below.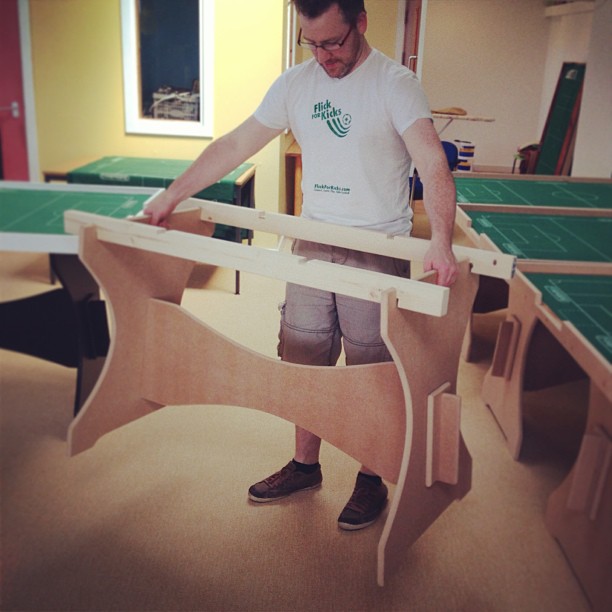 Base Kit Assembly Instructions
Instructions are below, or hit the button to download.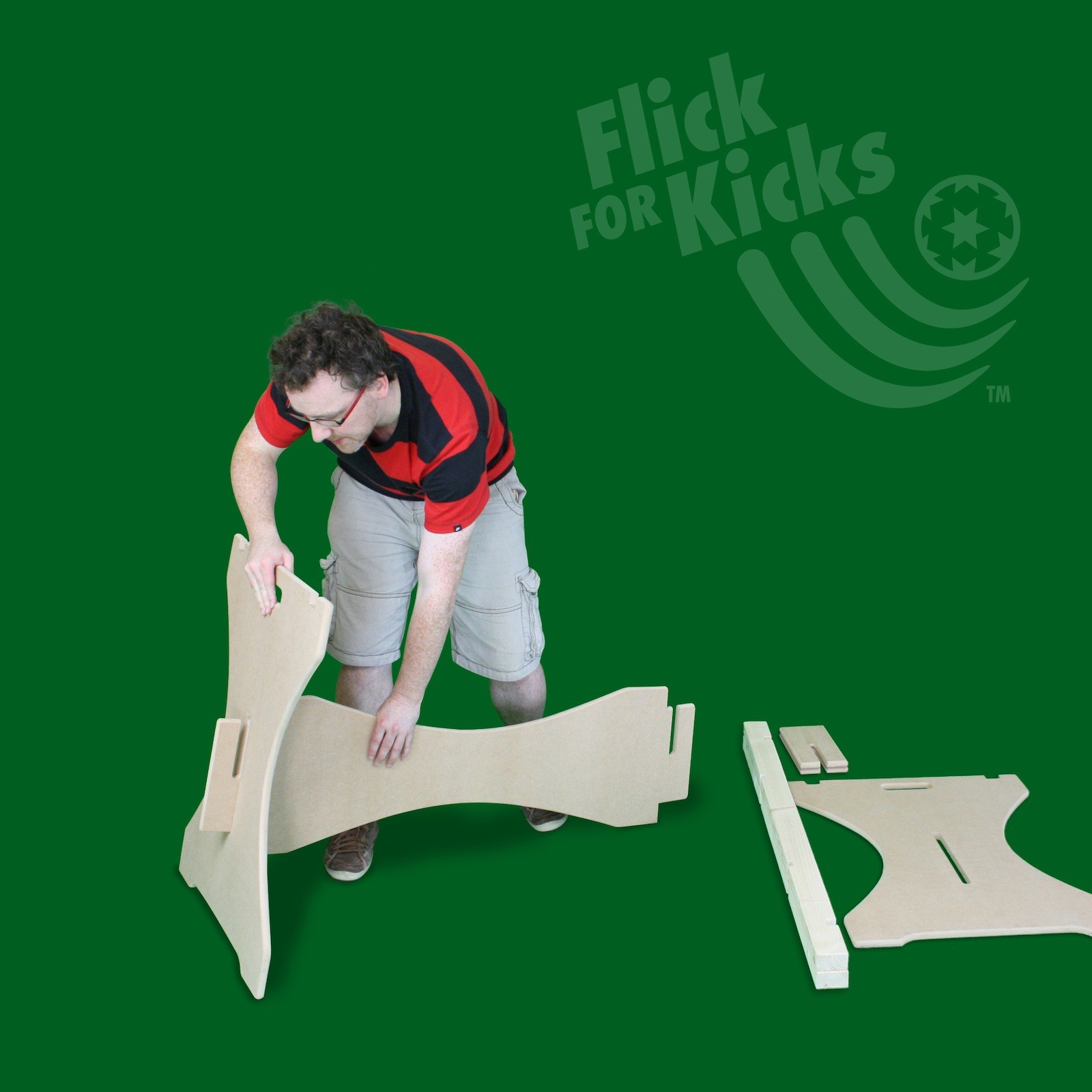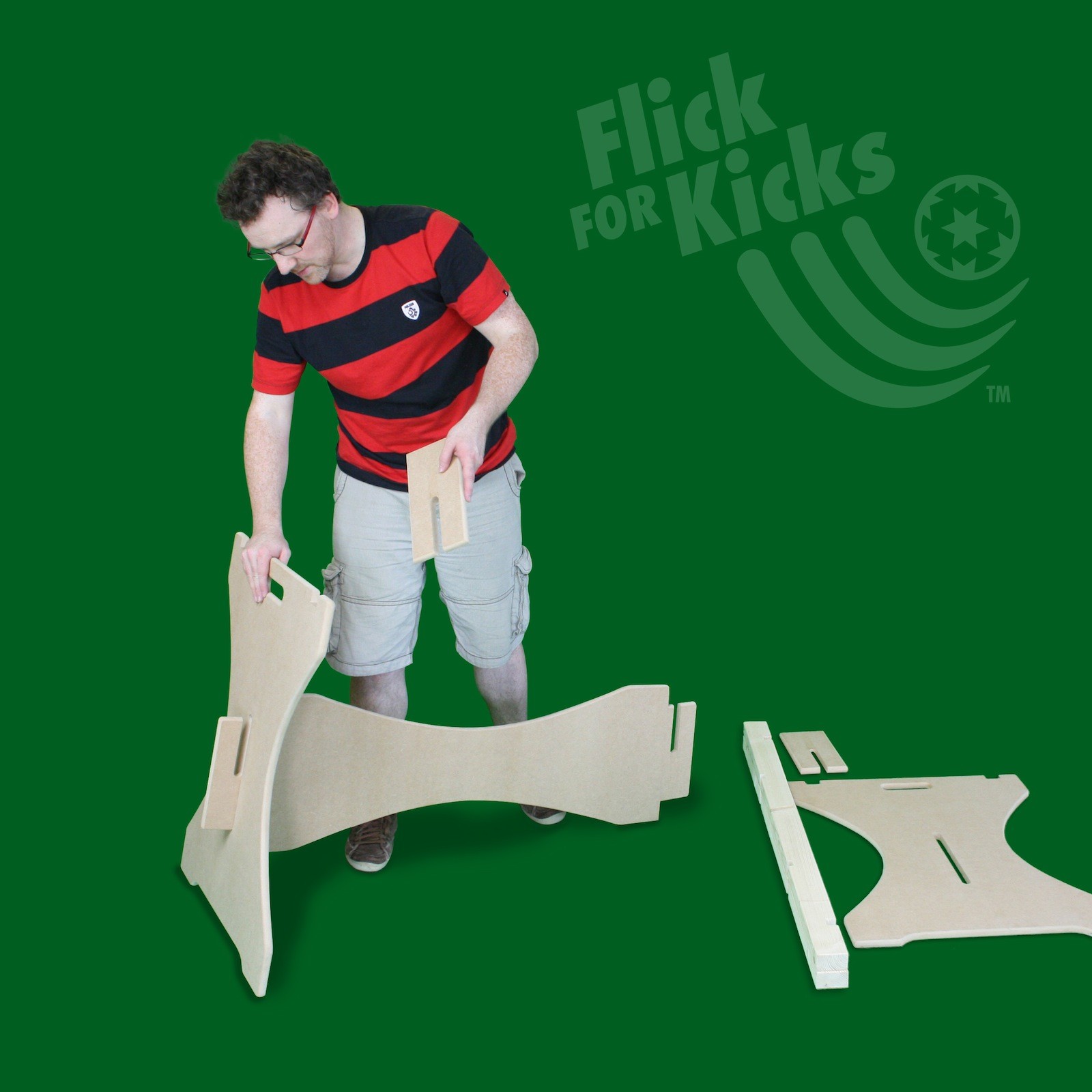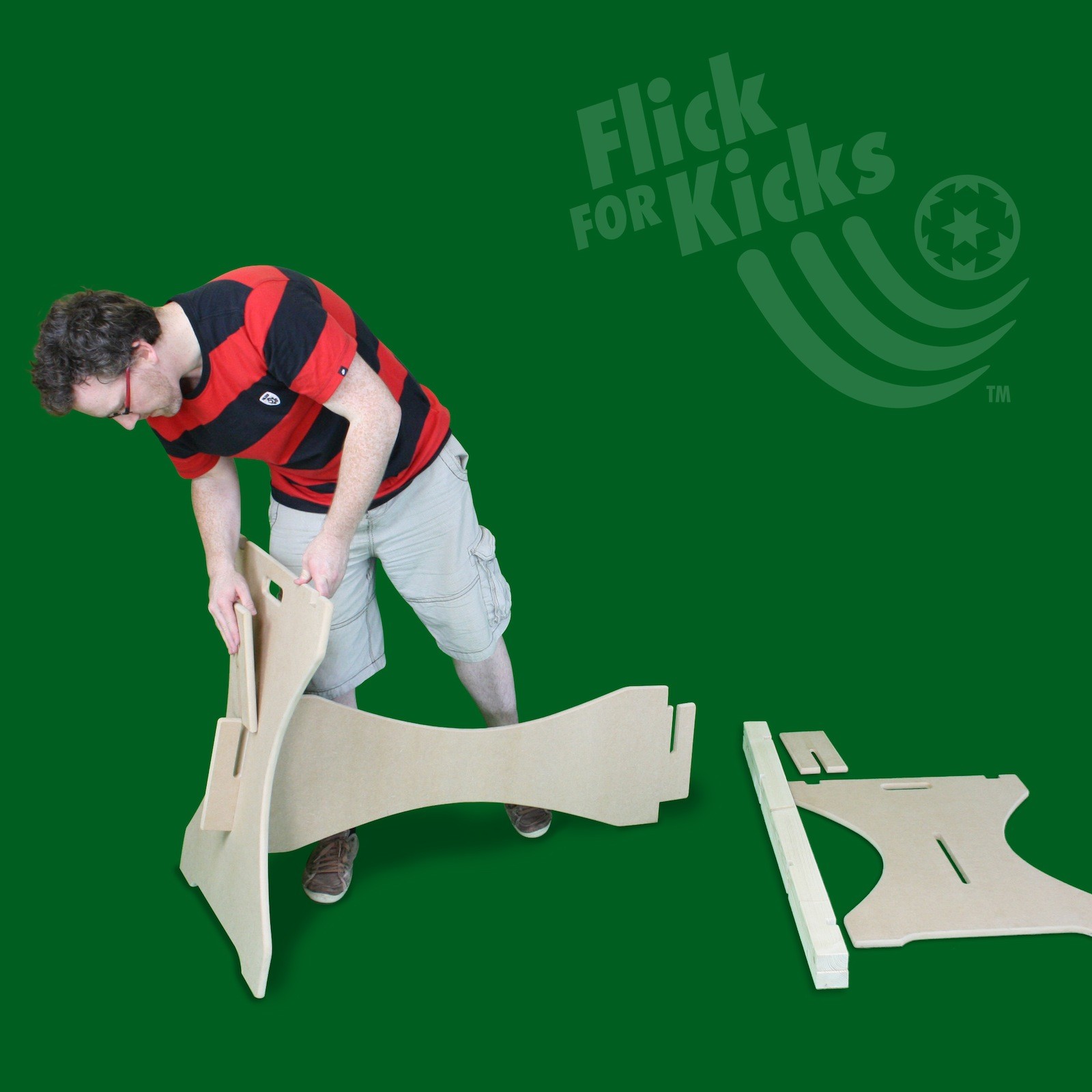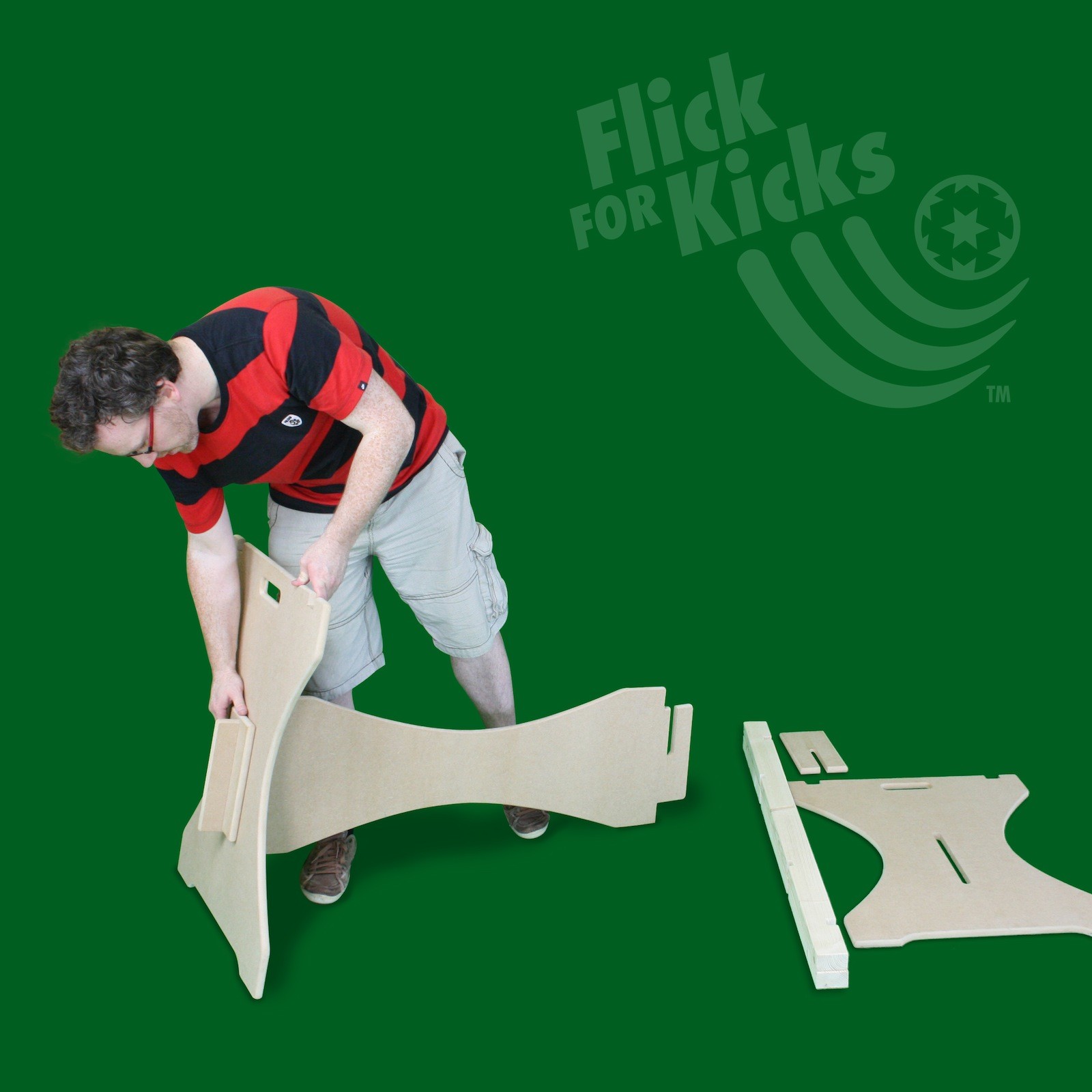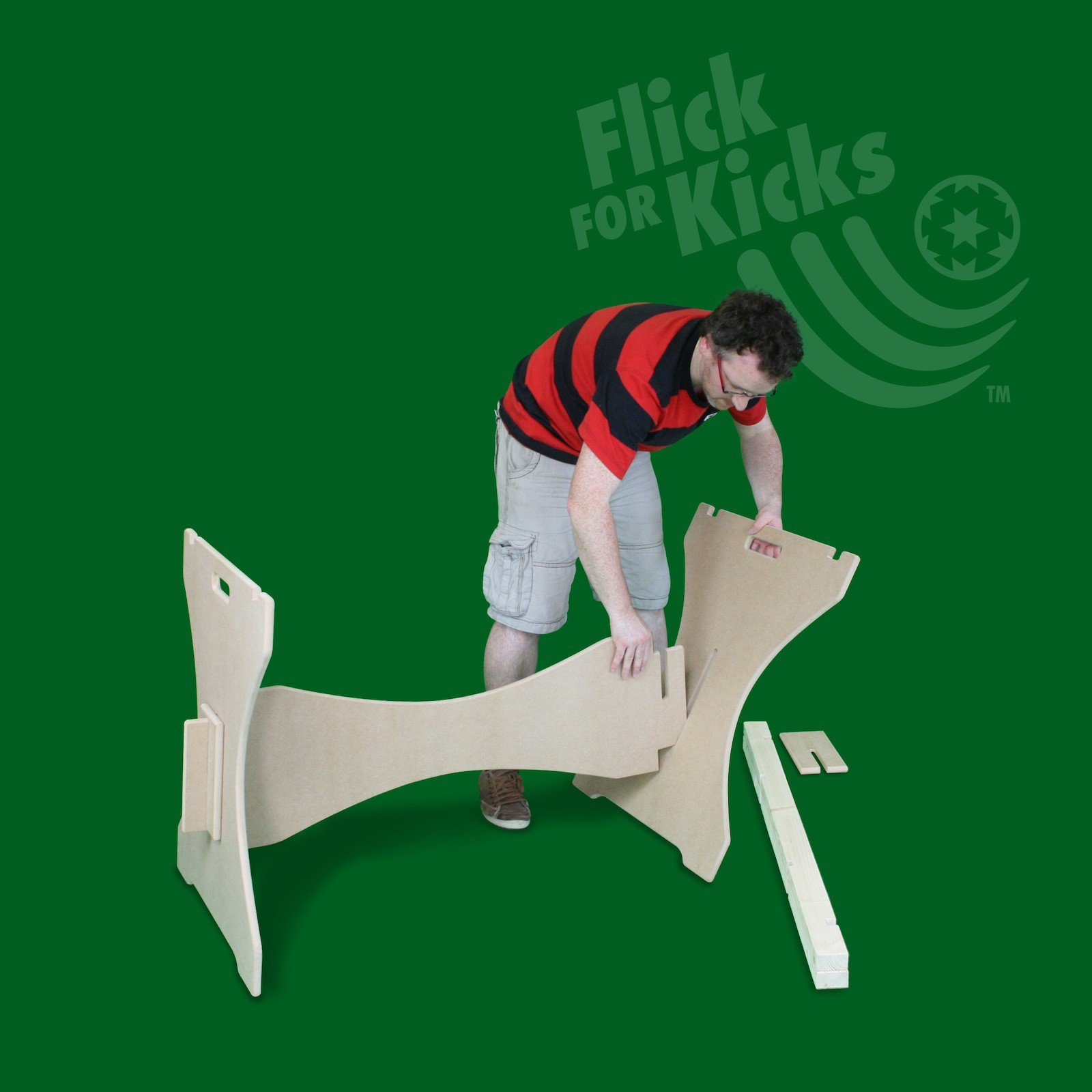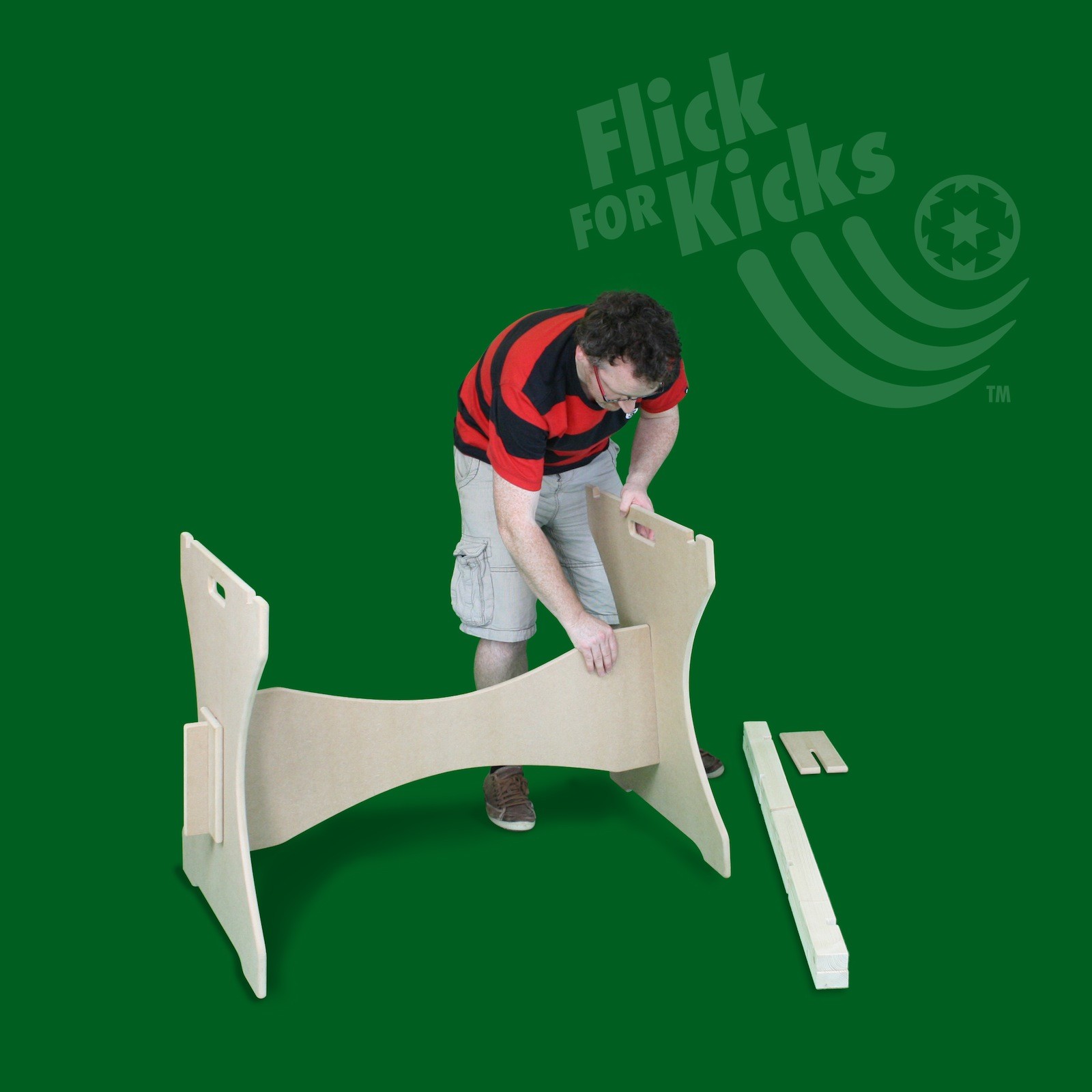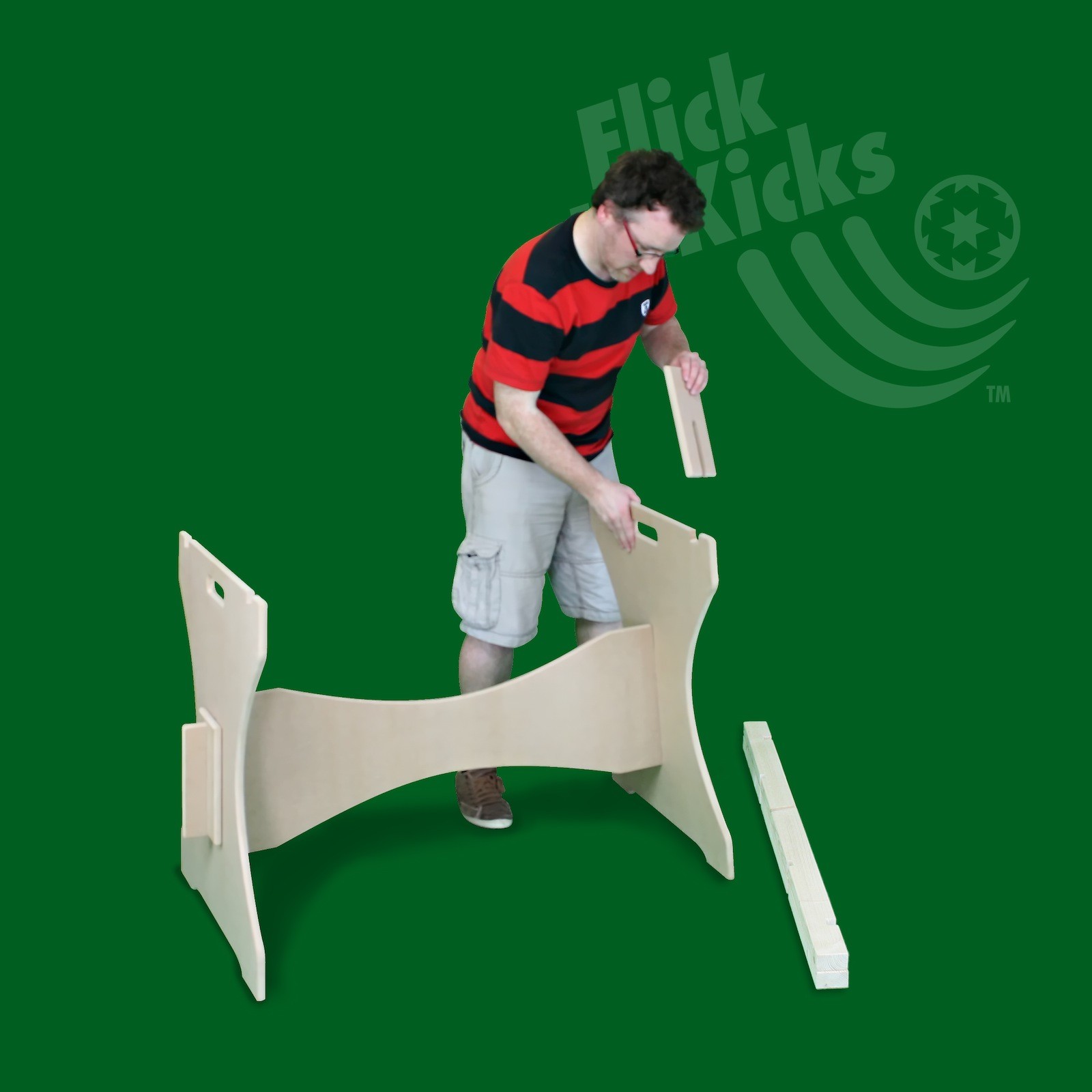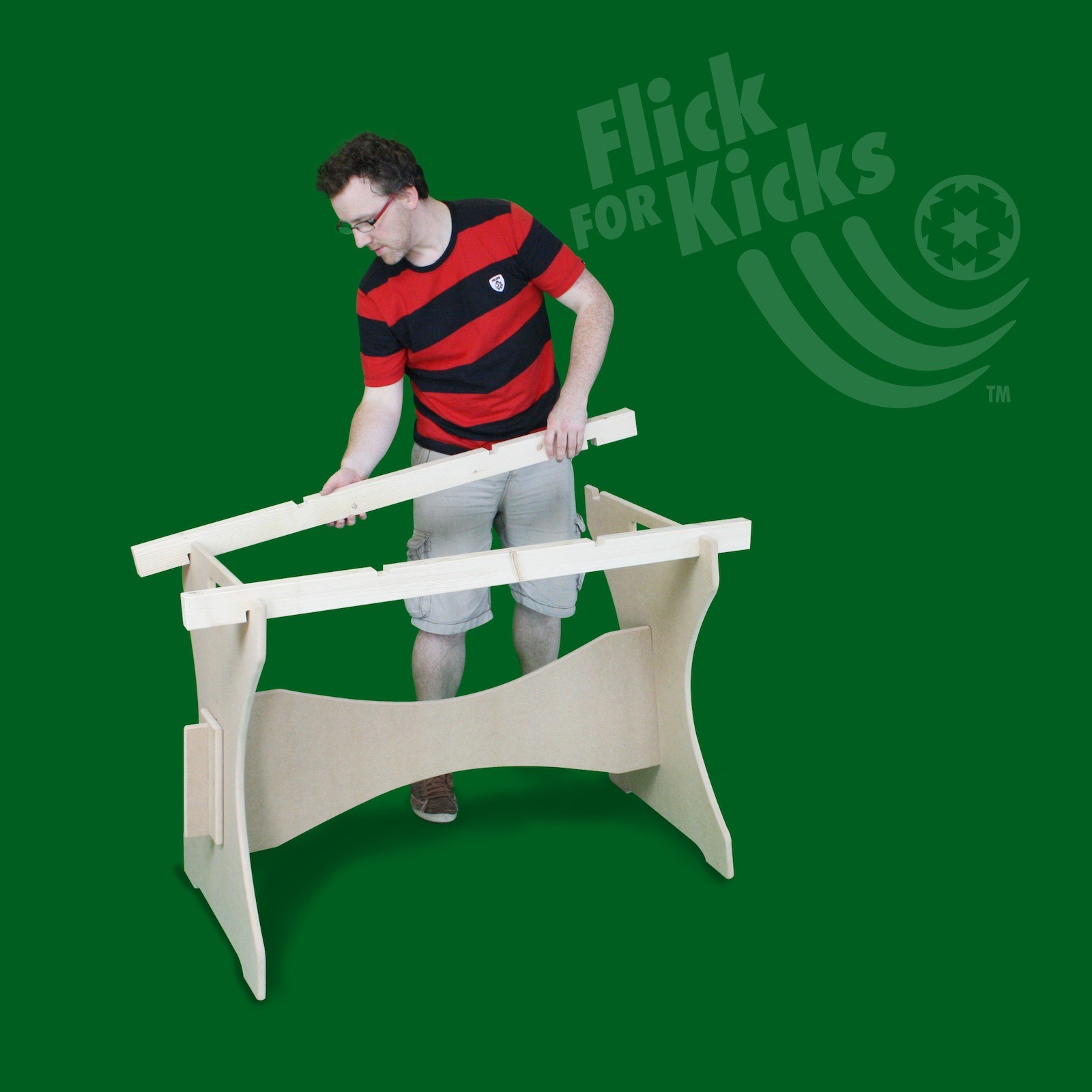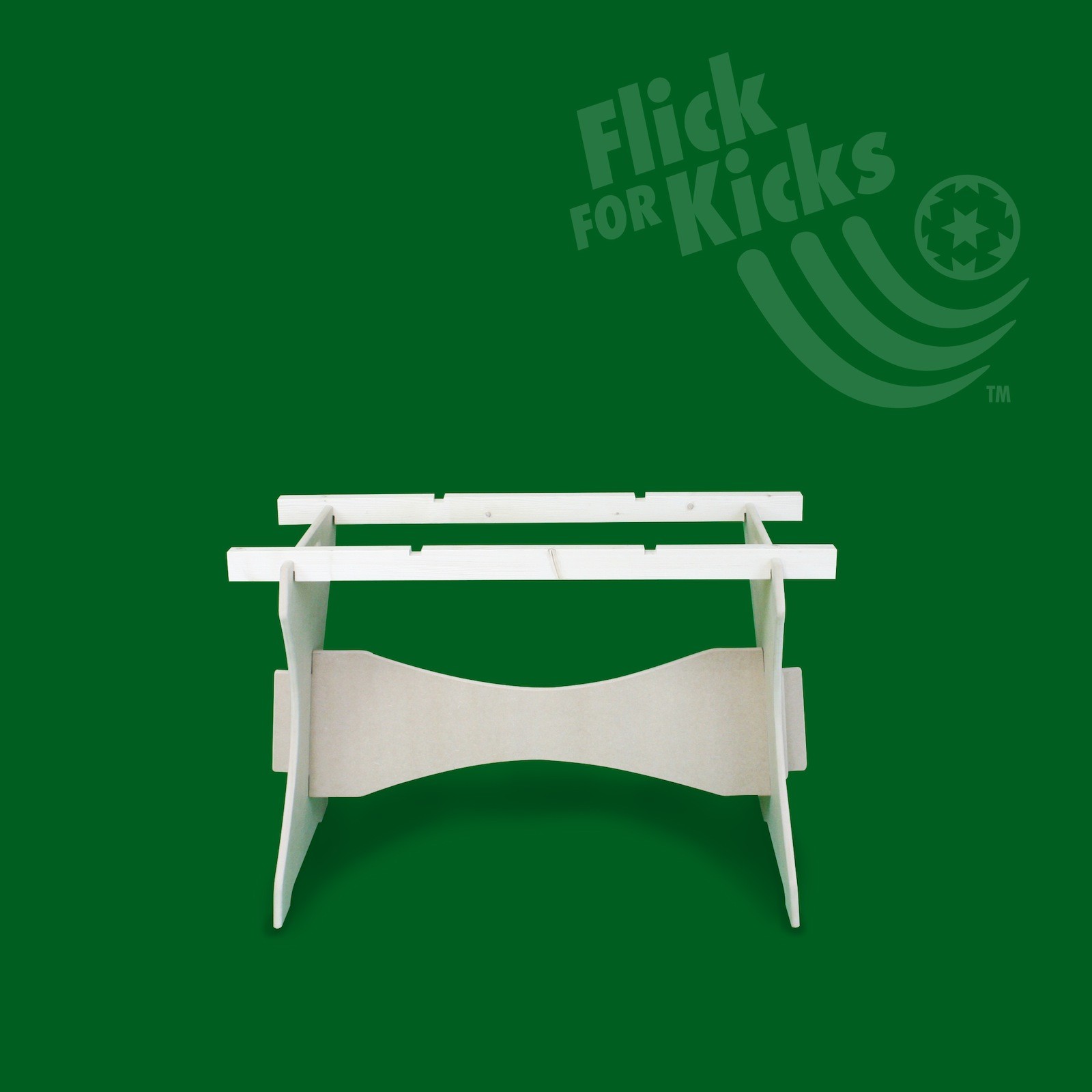 Let's Play…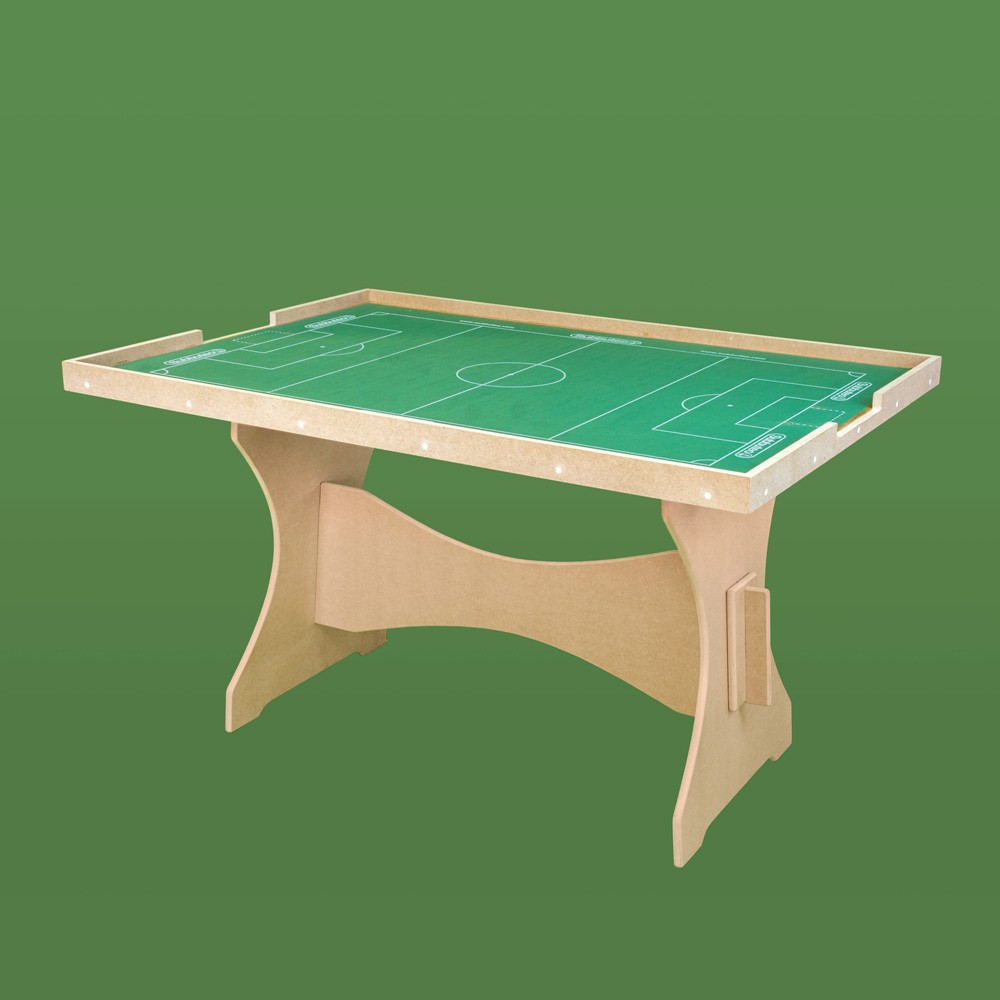 The FlickForKicks Classic Tabletop is the perfect partner for the base kit. Designed to fit together or used on their own. Once your goals are in place, get ready for the big match.
We hope you've found this guide useful. For further information, view the product listings and and as always, get in touch if you need help.
Popular Table Questions
Does the table base kit support come apart once built?
Yes. Sure does!
The trestle is a seven part flat-pack design that simply slots together easily. Disassembling for storing away is even easier.
No metal fixings that can loosen over time. No tools required.
How long will it take for my table to be made?
Our tables are handmade to order so production time varies depending on how many orders we have and any painting requirements. However, you can generally expect to receive your stadium with 4 weeks of order confirmation. At busy periods this may extend to 6 weeks or longer. We will give you an estimated delivery date at the time of ordering. We do  try to keep a small stock of components ready to be finished, so if you're pressed for a particular date, let us know and we'll do what we can.
Yes. If you're happy to collect your order from the Dundee area in Scotland, just select the appropriate shipping option and we'll be in touch to discuss once we receive your order.
Can I have a stadium with my favourite football club's badge on it?
Generally, no*. But there are alternatives!
If you can provide written permission for using third party artwork on your stadium, then there's no problem.
If not, just let us know which team you like and we can design a a suitable theme, using team nicknames, slogans, club songs or whatever inspiration we can find. You can make suggestions too.
*Basically, football club logos, badges and often the names of the clubs themselves, are protected by copyright and usually trademark law. They cannot be reproduced without permission from the club or owner of the artwork. The same goes for Subbuteo® or any other table football brands.
As designers ourselves, we understand the huge investment required to develop brand identity and we respect that they should be rewarded for that. Credit where credit's due. We hope others pay us the same respect.
What height are your tables?
Our base units and stadiums are designed to suit the Federation of International Sports Table Football Association (F.I.S.T.F.) regulations.
Current regulation floor to playing surface height:
Minimum – 750mm
Maximum – 900mm
Our standard height stadiums are in the middle, 825mm high, which we've found to suit the majority but you can also…
Choose the height
If you want a specific height of table, for disabled access or young children (roughly ages 4-6.) For example, we can make one especially for you right down to 600mm high.
Contact us with your requirements before ordering and we'll be happy to advise.
Will you stick my pitch down and drill holes for my goals?
Yes. We offer a pitch and goal fitting service if you buy them from us at the same time as a tabletop. We may also fit a pitch that you send us, depending on the type and any risk of damage. Laying a pitch is a 2 person job and there's a small fee to cover materials and our time.
Please ask about which pitches we have in stock.
EXTREME WORKS / BIEMME GOALS:
If you're ordering a tabletop with pitch and you already happen to have Extreme goals or Biemme goals, then the news is good.  Extreme Goals are produced extremely accurately, meaning the bolts are always in the same place. We have a custom made template to suit so we'll drill holes in the tabletop for you. You just need to slot your goals in place later.
DELIVERY COSTS:
Goals for tabletops generally need to be sent in a separate box. Due to the way shipping is calculated (volumetric weight) this may cost extra for delivery. We'll let you know about this when you order.
Can I arrange my own courier to collect my order?
Yes. You can deal directly with any courier you choose. We'll give you the collection address, package dimensions and weight details you need to arrange your collection. Be aware that risk passes to you when the carrier collects your order. Therefore, you are responsible for arranging insurance and safe delivery of your order. Please contact us for details.
Does the indoor arena / mini-table come with goals?
Yes. The mini-table is a complete, ready-to-play arena – table with pitch and goals. We make the metal goals ourselves and cut the nets by hand to fit. They are always included in the price unless stated otherwise on an individual product listing.
Can I buy the indoor arena without goals?
No, sorry. The 5-a-side indoor arena is sold complete with goals which are designed especially for this size of table. They can be removed without tools.