Description
Off-the-wall indoor football FlickForKicks™ style!
At 78 x 43 cm, this handmade mini-table is a brilliant size for playing on a coffee table or on the floor. Play mini-games with your mates and family or practise on your own. Choose the colour for the surrounds and the pitch to suit your favourite team and we'll make it especially for you. Our included indoor goals (just 5cm high) are made to fit. Just push them into the pre-drilled holes and you're ready to play.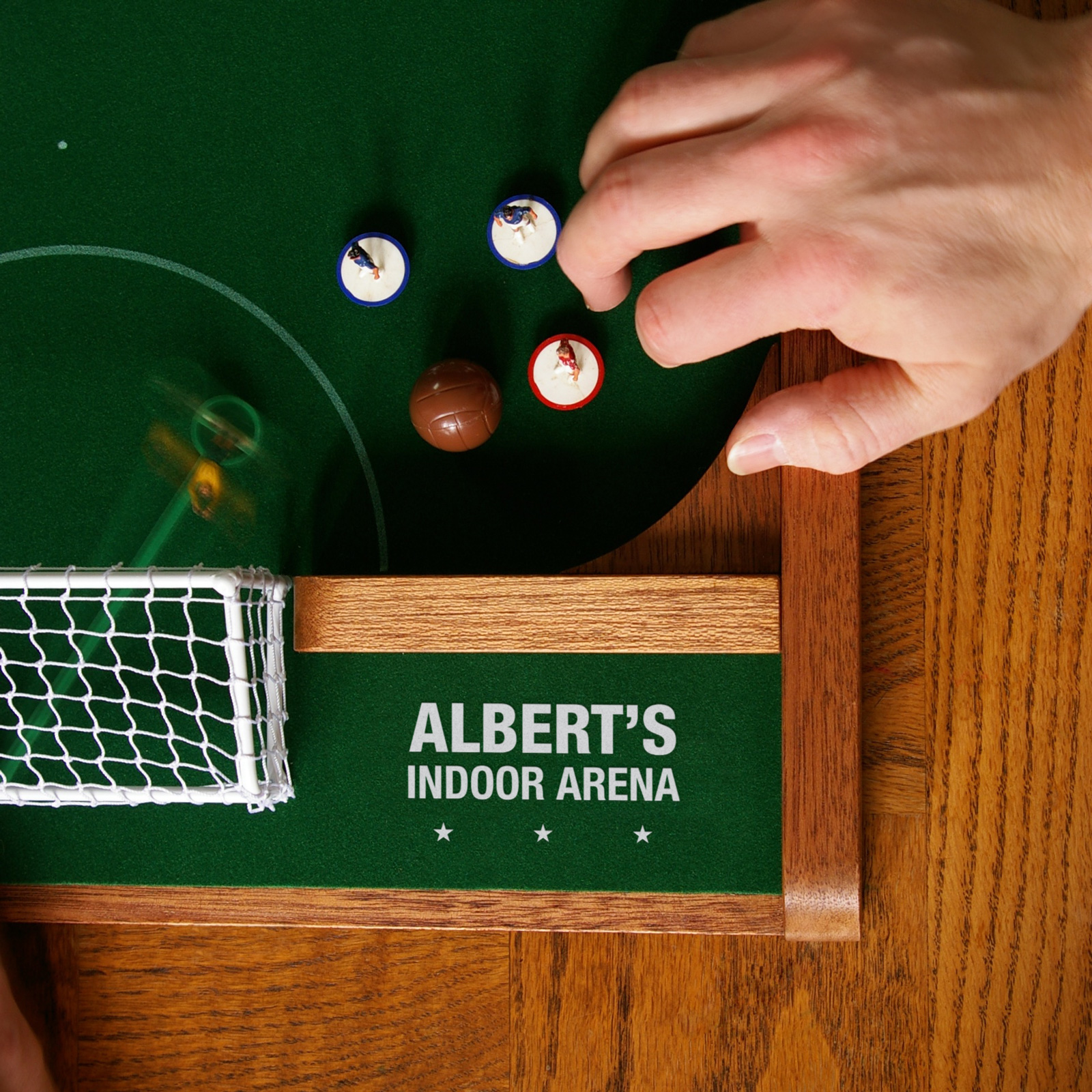 OFFER: FREE PERSONALISED PITCH PRINT
Make the arena your own, or add that special touch for a gift. You choose the text you want on the pitch beside the goals, and we do the rest. How about an arena name, or a special message?
FREE optional extra until Friday 18th August. Regular price is £12.
Terms and Conditions:
Delivery will be during September on a date to be agreed. Offer includes replacing the printed text "FlickforKicks Table Soccer", beside the goals, with your own personalised text. See photos for examples. Each end of the arena can be different too. Available with any order of FlickForKicks Indoor Arena, whether painted, oak, or meranti. Please send for a quote for the arena you want, via the link. You'll get a personal response from an actual person, and we'll send an invoice which must be paid to confirm your order, within 24 hours. Regular price for this optional extra is £15.
Dust off your Subbuteo figures because this compatible mini-table is fast and fun with lots of ways to play. All you need is 2-5 figures on each team, goalkeepers and a ball. Most brands of flick-to-kick table soccer figures will work and if you don't have any, we can supply. Just ask us about teams!
Table Description
Handcrafted in the UK from MDF and finished in your choice of colours, the FlickForKicks Indoor Stadium is ideal for a flick-about at home, or pop it in the car to get your kicks on holiday. With slicone feet underneath, the mini-table sits perfectly still on a table or solid floor without scratching the surface. The sides are 5cm high on the outside so it's easy to store flat or standing up in a cupboard.
Painting
Whether you yell for the yellows or sing for the blues, show your colours by picking a combination of colours to suit your taste. You'll get your stadium surrounds professionally painted with a shiny gloss finish. The sticky back-astroturf-like pitch comes in FlickForKicks™ colours and the lines drawn by hand in white.
Personalisation
To make the indoor arena that little bit more special, you can customise the area beside the goals. Let us know what text you'd like included, up to 30 characters, and we'll do the rest. E.g. Sophie's Soccer Stadium, Albert's Indoor Arena, The Smiths 5-a-side Football We'll come back to you with a graphic mock-up of how the the message will look. Once you've checked the spelling and are happy to continue, we cut and heat press the artwork directly onto the baize surface. A truly unique table and ace personalised gift. Cost £15
Summary
Handmade in the UK by father and son
Painted surrounds in a colour of your choice
Astroturf style playing surface in a colour of your choice
78 x 43 x 5cm dimensions
Playing area 60 x 40cm
Metal indoor goals with vinyl netting
Rubber feet
Ready to play
Pitch Printing – optional personalisation
Delivery
We send these to all countries that DHL deliver to (pretty much everywhere!). The shipping cost is the amount paid directly to the courier including carriage insurance as well as packaging. These mini-tables are delivered in the UK on a weekday you choose, or a weekend delivery at extra cost.
| Country | Shipping Cost |
| --- | --- |
| UK* | £15 |
| Belgium, Netherlands | £25 |
| France | £28 |
| Italy, Greece, Sweden | £32 |
| U.S. | £Ask |
| Canada | £Ask |
| Australia | £Ask |
The FlickForKicks™ Indoor Stadium is compatible with all flick-to-kick table football branded figures including Subbuteo, Tchaaa4, Zeugo, SuperFooty, Extreme Works, Astrobase, and Profi-Base.
Special Terms and Conditions
Important
These stadiums are made to order and this may take up to 3 weeks but we usually keep a stock ready for painting.
If you need your order quickly or want something special, please let us know your requirements.
Delivered by trusted couriers in the UK. When your stadium is ready to ship, we'll get in touch to agree a date when someone can be in to accept delivery. We'll then let you know when the delivery is booked and keep you posted.
EU and International orders – please contact us.
Product Usage Guidelines
DO store in a moisture free environment.
DO use a dust cover to protect the playing surface
DO remove dust and debris using a soft brush or lint remover.
Business Customers / Retail Outlets
Please get in touch to discuss bespoke branding options to suit your corporate image, event or function.