Extreme Pitches (v.2.1) and Extreme Goals now in stock!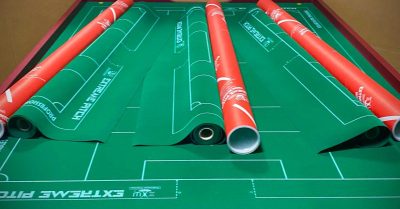 UK Customers read on….
If you're keen to get a top-end tournament quality pitch or goals from Italy, now is your chance. We usually reserve Extreme Pitches and Goals for tabletop customers only, because of the high import costs to the UK, but we've ordered in some extras this time for you guys.
These are available to order today, and we have a limited quantity, so it's first come first served.
Get your Extreme Works gear here.
---
We also have a few FlickForKicks Arenas already built, just waiting for you to choose a pitch. Next day delivery within 2-4 working days.
Shoot across to the Good to Go page.
Stay cool,
Gareth & Tom 🙂
Ps. First come, first served. Visit the Extreme Works and ''Good to Go' for in-stock 5-a-side arenas.